Oct 26 2002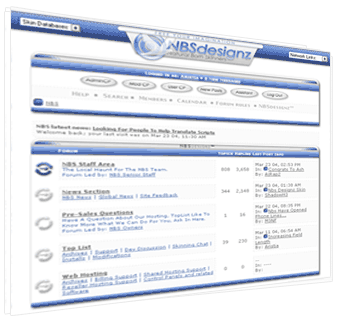 Mat and I founded of NBSdesignz (a forum skins, web scripts and web hosting company) which has since disappeared. Mat and I had a great time running that site, and it turned steadily from hobby to company. We had a lot of fun with that site but it grew too big and so we sold our baby to give us more time for family.
NBSdesignz was founded on 26th October 2002, and was formerly known as IBFskinned. We started off making skins for ourselves on our personal site. We made the popular OSX range and decided to get feedback from them at Invision Power Services forum. We soon received a lot of great comments, and more people asking for our work, so they could have our styles on their sites. We then decided to have a download section on our forum, to allow our new members to enjoy what we have made. We soon had members joining from all over the world to get the skins from us and ended up with more members coming for our forum skins than for our personal site.
We released our first 1.01 skins to ibskins (another invision skinning site), and they became a hit there. For a while, we had played with the idea of making a new site purely for sharing our skins and helping people. And after an evening of chatting about it, we decided it would be a good idea, and we opened IBFskinned.
Soon the word spread, and members began flocking in. It became popular so fast it was amazing. Our updated OSX range was exclusive to us, and many people were keen to get their hands on it. We decided then, to let other people submit their work to us for sharing with the community and pretty soon we were getting ourselves a nice cozy little database, and a growing community and that's what we love the most.
Things really took off from there, we grew so fast we needed to take on some staff and soon there were even more people submitting their work to us. The staff joined in with the skinning and we soon become a popular place. As of the date we sold it, we held the largest collection of 1.1, 1.2, 1.3, and 2.0.X Invision Board skins online, and had expanded into all forums software (including vBulletin, Invision board, Ikonboard, MyUPB, wctBB and phpbb), even becoming the official skinning site for MyUPB forums software. We made custom skins for free, and rented a dedicated server for web hosting, coupled with a great priority support and a motivated team. Although we had only been open for such a short time, we made a name for ourselves in the world of skinning and design. This was all thanks to the dedication of our staff and our members.