Jan 14 2006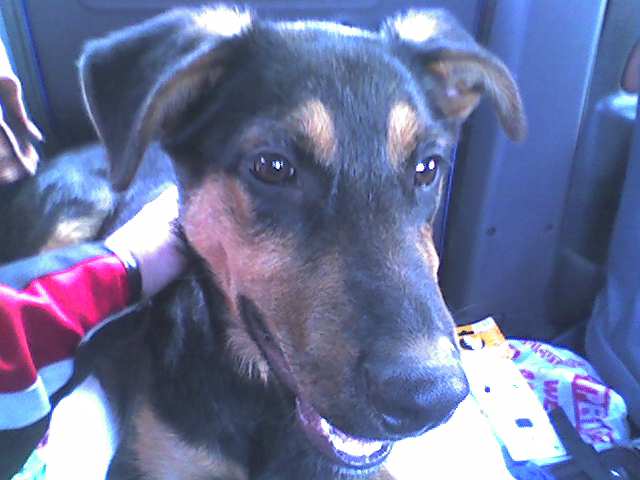 Day 1 Today we collected Tillis ("Tilli" for short) and brought her home. A lady who had 4 dogs, one of which was attacking the youngest alot, had decided it best to find her a new home and saw Mat's ad in the free-ads. After discussing on the phone, and looking on the internet at pictures of Tilli's breed, we dicided we'd love to take her home and arranged to collect her the next day. Mat and his parents went up to Strood and picked her up. The lady was sad to see her go and had a few quiet moments with Tilli before they set off home.
Day 2 It's now the morning after Tilli's first time home. Last night she spent on our bed having cuddles. I couldn't sleep since i'm not accustomed to having heavy jumps lying ontop of me while i sleep! She is very cuddly and still following Mat around everywhere :) very sweet girl and lovely with the children. She pulls on the lead alot but otherwise ok. Tilli came with a bed but it was too small so we've just put blankets down for her and she much prefers that :) We took her out for a walk and let her off the lead, she didnt run away and enjoyed herself. Afterwards, she slept and we rested on the sofa with her. The kids stayed home as their dad was poorly so it gave us all a chance to get to know eachother.
Day 3 She spent last night on the bed again but I got more sleep this time. I've been learning more about dogs from the internet, there's alot of different information so we'll have to see what works. Today is my first day with Mat at work since we got Tilli. She was quie clingy to me today which made me feel better - I had been feeling like she didnt like me. She had her bath yesterday and I sat with her while i driedd her. she was a good girl until the shower went on. even when i tried a jug she didnt like the feel so I rubbed her as i rinsed and that helped alot. She's definately starting to feel more comfortable with us, getting more like a playful puppy now leaping about the place.
Day 4 Last night, we made Tilli sleep in her own bed. She's had time for settling in and now need to get her into a proper routine that works for us. It took some work, but we got there in the end. Mat felt a bit guilty but she needs to know who's boss and can't sleep on our bed all the time. We got a wake up call/lick at about 2am and I'm starting to feel the effects of the sleep loss :( Today was the first day I had to leave her alone in the house. I'm not allowed to take her into the school grounds so she had to stay home. When I got back, she was in a frenzy to lick me but settled down quite soon. I took her out for a walk and then home. I did more research about dogs but I think it's starting to wear my brain (too little sleep and too much brain work).